Nigeria is one of the largest populated country in west Africa, it comprises of 36 states with a federal capital located in Abuja. One of the problems faced by developing countries in high rate of unemployment and lack of good governance. Abia state is one state of the 36 states in Nigeria.
SOLUTION TO YOUTH UNEMPLOYMENT FIVE BUSINESSES YOU CAN START WITH 20K
The Abia State Governor, Dr Okezie Ikpeazu, has advised the Federal Government to think of establishing farms across the 36 states, using members of the National Youth Service Corp (NYSC) as drivers of a youth agricultural initiative.
The Governor, according to a statement issued on Thursday by his Chief Press Secretary, Comrade Enyinnaya Appolos, said this when he received the Director General of NYSC, Brig. Gen. Sule Kazaure, who paid him a one day working visit at Government House Umuahia.
Governor Ikpeazu said the policy will make it mandatory for Corp members to be trained by experts in various aspects of agriculture during their one year national service, and every state will provide farm.
He said that upon the completion of their service year, the Federal Government will make Agric loans accessible to them to go into various aspect of farming.
Ikpeazu said that the scheme will provide employment as it will encourage youth involvement in agriculture and reduce the number of white collar job seekers.
The governor said, "I've thought about how to solve the problem of unemployment in Nigeria and I think that the best way to solving this problem.
According to him, "NYSC is a vehicle that can drive government policies including agriculture and achieve good value chain in the industry".
He promised that the erosion site at the orientation camp will be visited and the female hostel looked into, promising that government will continue to assist the NYSC in the state.
Ikpeazu also pleaded with NYSC to consider awarding contracts for the production of uniforms and boots to Aba tailors and shoe makers to support his administrations drive for patronage of made in Aba goods and services.
He assured that the state Government will guarantee high quality products as well as provide industrial capacity machines and high quality inputs to a consortium of tailors and shoe makers at Aba to meet the demands of NYSC in a timely manner.
The governor stated that the state is also ready to supply uniforms and boots to military men in the country at competitive prices.
Earlier, the DG of the NYSC, Brig. Gen. Suleiman Zakari Kazaure said that he was in the state for a routine inspection of the camp facility for the batch A stream 2 of the NYSC.
IMPROVING THE SERVICE AND WELFARE OF NYSC CORP MEMBERS
He thanked the Governor for the cordial relationship between the state and the NYSC team in the state and appreciated his achievements in the state including his benevolence to the NYSC and requested him to assist in the area of erosion control in the camp, fix the dilapidated female hostel. He also urged him to provide borehole as well as do something about the subvention payable to NYSC corp members.
Here are five (5) businesses you can start with 20k and earn a huge amount of money weekly.
I'm sure you're wondering what this business is like. These businesses are what I call the mini inter-state importation business. In this business, you simply buy products (mostly farm produce) at a low cost in a state where it is abundant, transport it to a state where it is scarce and expensive, and then sell it at a profit.
Here, I'm going to show you five hot products that you can make a lot of money from, and I'm also going to tell you where to buy them and where to sell them.
1. NIGERIAN LOCAL RICE
Statistically, Nigeria is the highest importer of rice globally and the largest producer in West Africa. Research has shown that more than 9000 bags of rice are consumed a day in Nigeria. As we all know, the current government has prohibited the importation of rice into Nigeria, making imported rice prohibitively expensive and creating a high demand for Nigerian base rice, to the point where Nigerian base rice is now prohibitively expensive.As a business man, it's your duty to study the market so that you can make some profit. Without further ado, let's get to where we can get the rice and where we can sell it.Here are some states where you can get rice at a very low cost: Kaduna state, Kano state, Niger state, Jigawa state and Taraba state. In each of these states, a bag of rice is sold for 17-20k. Let us now move on to where you can sell it: Imo States, Anambra State, Lagos State, and so on are some states where you can sell your rice at a very good price and make a lot of profit.Rice is sold for $33-38k per bag in each of the aforementioned states.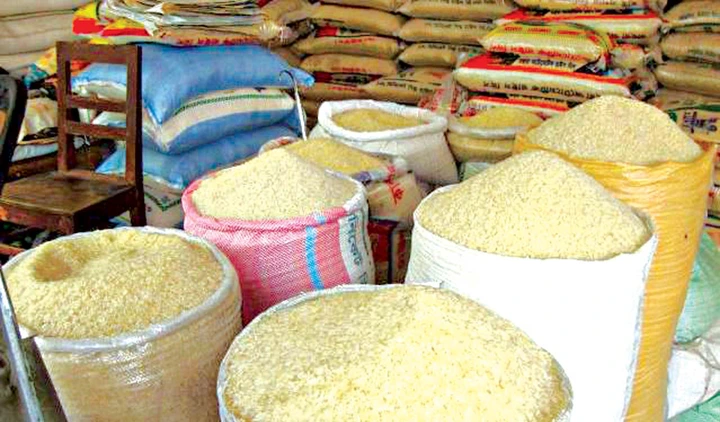 Image: Rice
 2. Fish business  
According to research, 60% of Nigerians consume fish, indicating that fish is in high demand.Here are some states where fish are predominant; Jigawa state, Hadejia and Miga, Bauchi state etc. You can buy a carton of dry fish for about 2-3k in each state and sell it for about 6-10k in places like Abuja and Lagos.
3. Beans business
Beans are one of the most popular foods in Africa, especially in Nigeria, and are the 4th most consumed after cassava, yam and rice. Gombe state, Kano, Sokoto, and Kaduna are the states where you can get beans cheaply; a bag of beans costs 15-20k here.You can sell your beans for 25-30k in Imo, Anambra, and Lagos, among other places.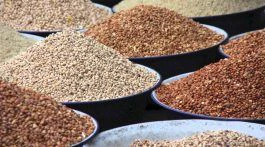 Beans
4. Garri business
As we all know, cassava is now expensive, so Garri's price must have doubled; in fact, Garri's price has nearly doubled everywhere, but there are still places where you can get it cheap.Benue state and Benue state produce the best garri; you can buy a bag for 10-15k and sell it for 30-40k in Jigawa, Katsina, and other states.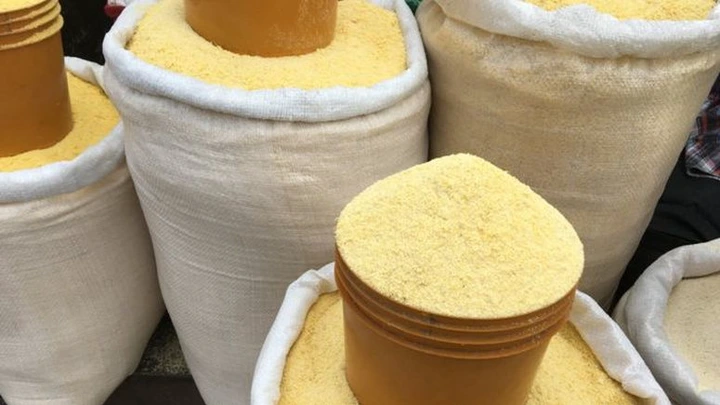 Image: Garri
5. Palm oil business
Research has shown that 98% of Nigerians consume palm oil. Palm oil is in high demand in many northern states of Nigeria. You can buy palm oil at a very cheap price in states like Akwa Ibom, Enugu, Imo, Ondo, Cross River, Delta, Ogun etc. 25 litres of palm oil costs 9-15k and can be sold for 23-25k in Jigawa, Katsina, Kano, Sokoto, Zamfara, and other states.
Thanks for reading to the end. Please don't forget to like, comment and share.
If you want to see more of my posts on business opportunities, please kindly follow me.
Share this: